Are you a business owner with fewer than 100 employees? 
Do you need more cash now and to build more value for later?
Here are your options:
Hire a full-time CFO for $180k-$200k per year.
Hire a part-time CFO for $18k-$30k per year.
Do it all by yourself.
Here's a better solution:
Let Gary coach you on how to get more cash now, and more business value later.
See our Bronze level package for $29/month. No contracts. Cancel anytime. Details below.
Other plan options are available depending on your needs.
LEARN HOW TO LEVERAGEYOU!
Become a LeveragingYOU! member for as little as $29 per month!
Maximize the value of your business now and in the future
Join LeveragingYOU! to build your business value
Membership Benefits:
10x ROI
Work at your own pace or learn to grow your business alongside other business owners -- your choice!
Access more cash now, more business value later.
Get more products and services through your pipeline with less effort, stress and cost.
Make your business more sellable.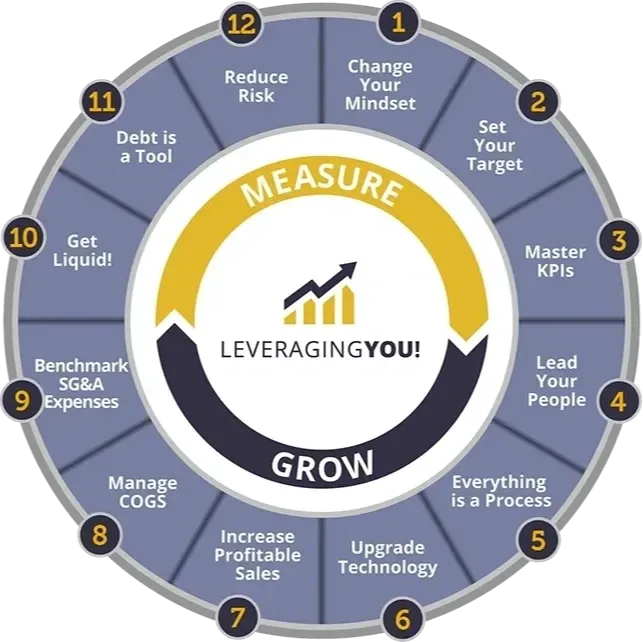 How is this course different?
Course author Gary Aldridge shares his 30+ years of personal experience as a CFO in many industries.
His lessons offer 60+ real-world stories about what worked and what didn't.
He is open and transparent about his success and the hard lessons learned. With LeveragingYOU!, you get to learn from his experience and grow value in your business.
LEARN MORE ABOUT GARY
"I'm in the business of industrial recycling. It's not for the faint of heart. Tough jobs, hard manual labor, lots of turnover. It's very hard to scale. I saw your first video of LeveragingYOU! Since then, I researched my options to buy equipment to scale. I decided to build it instead for 50% of the costs! I increased capacity by 4x's without increasing labor. My gross profit in year one is estimated to be $1 million. The value generated is about $4 million. Thanks so much for your help! "
Mike S.
Industrial Recycling
"What a lifesaver! I worked with Gary and saw my business value increase 3x in just a few short years. I recently had a successful exit and am now enjoying the fruits of my labor. Thank you so much!"
Sam L.
Landscaping
I frequently interact with business owners and the many professionals that serve them. I see situations where misinformation about the value of a company is taken as fact. People inaccurately use industry averages, multiples of revenue or EBITDA, or some other metric to calculate a business value mistakenly. In some cases, an owner literally just picks a number out of the air.
When it comes to estimating the value of a business, knowledge is power. Guessing can cost business owners a lot of money.