Of the 30 million small businesses in the US, 99% do not exceed
$10 million in revenue.
Yet all these businesses need a seasoned CFO to lead the
business financially.
Instead of hiring a CFO, let LeveragingYOU! teach you how to successfully lead the financial aspects of your business.
LEARN HOW TO LEVERAGEYOU!
To maximize the value of your business
AND
cash in on your hard work when you sell

You need to build for a buyer
Learn to think like a buyer
Increase profitability and liquidity
Reduce turnover and bottlenecks
Refine processes
Build your business for a buyer
Identify what buyers care about (and don't care about)
Estimate what your company is worth (you'll be surprised)
Set the value that you want to get when you exit
Measure what matters!

10x ROI on your purchase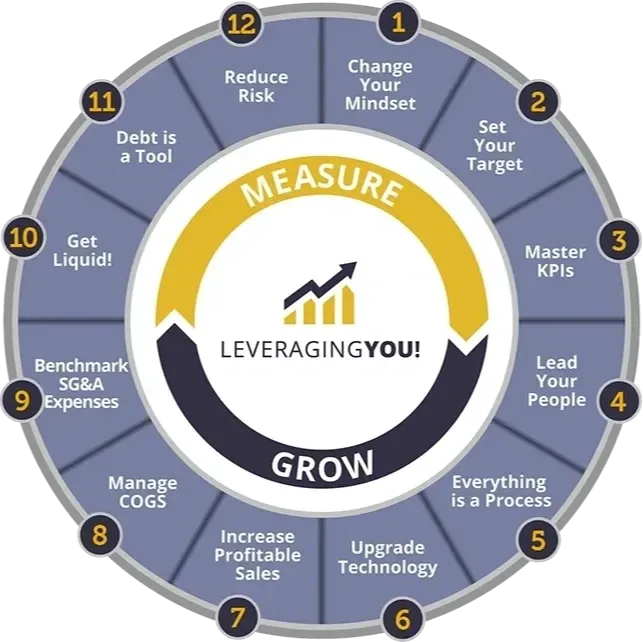 How is this course different?
Course author Gary Aldridge shares his 30+ years of personal experience as a CFO in many industries.
His lessons offer 60+ real-world stories about what worked and what didn't.
He is open and transparent about his success and the hard lessons learned. With LeveragingYOU!, you get to learn from his experience and grow value in your business.
LEARN MORE ABOUT GARY
"I'm in the business of industrial recycling. It's not for the faint of heart. Tough jobs, hard manual labor, lots of turnover. It's very hard to scale. I saw your first video of LeveragingYOU! Since then, I researched my options to buy equipment to scale. I decided to build it instead for 50% of the costs! I increased capacity by 4x's without increasing labor. My gross profit in year one is estimated to be $1 million. The value generated is about $4 million. Thanks so much for your help! "
Mike S.
Industrial Recycling
"What a lifesaver! I worked with Gary and saw my business value increase 3x in just a few short years. I recently had a successful exit and am now enjoying the fruits of my labor. Thank you so much!"
Sam L.
Landscaping
I frequently interact with business owners and the many professionals that serve them. I see situations where misinformation about the value of a company is taken as fact. People inaccurately use industry averages, multiples of revenue or EBITDA, or some other metric to calculate a business value mistakenly. In some cases, an owner literally just picks a number out of the air.
When it comes to estimating the value of a business, knowledge is power. Guessing can cost business owners a lot of money.